We've just spent an amazing weekend at the 'Carry On Crafting Festival' and it got me thinking about festival vibes and happy smiling people with pom-pom headbands, cute colourful crochet tops and lots of colour, fun, music (we were entertained all weekend by the fab Dawn Gracie). If you're off to a festival this summer these are my 10 essential festival makes. So head off to the haberdashery and grab some pom pom trim…
1. Make a pom pom headband
No festival is complete without some OTT headgear! If you haven't made a pom-pom since you were 5 then it's time to revive this simple craft to make yourself a pom-pom headband. Fat Pom Poms on Etsy sell headband kits or just pom-pom making kits. It's simple to tie the pop-poms onto a headband – just leave the tying off wool nice and long and tie it around the headband to secure each pom-pom.
If you just want to buy one ready made Pom Pom Crowns make them – with added glitter balls for that extra festival vibe.
2. Crochet a skimpy top
No list of essential summer festival makes would be complete without a cute crochet top. Crochet is everywhere at the moment. It's easy to pick up (I have always found it easier than knitting) and quick to make something good. I've recently made this crochet cute bikini top using a free pattern from Drops design. It was made from pretty granny squares in pastel cotton and was fairly easy to make. There are also instructions and videos to help you out if you're a beginner.
https://www.garnstudio.com/pattern.php?id=8027&cid=19
You can also find crochet patterns on Etsy. With any crochet patterns, check whether they are using the US or UK stitch names – as they are different. I've always crocheted following UK patterns so I struggle to covert the US terminology.
Love Crafts also has lots of free crochet patterns – there are just so many patterns you can be scrolling for hours! Here are a couple of cute tops I found: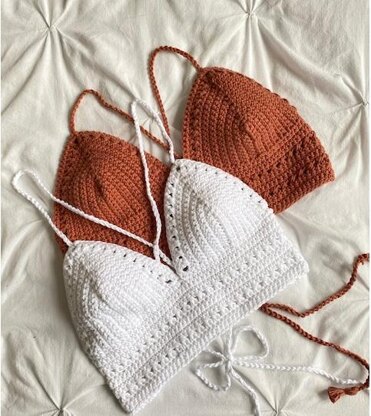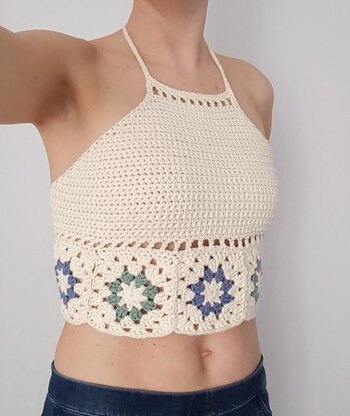 3. Embellish your sandals
Turn plain leather strappy sandals into your festival must have footwear by adding some colourful embellishments. Here are some of my favourite DIYs which basically involve sticking lots of pretty trim, pom-poms and tassels onto your sandals with a glue gun:
Add some embellishment like these ones from The Kipi Blog
4. Embroider your Converse
You can really go to town on your Converse with embroidery and make them unique and colourful. I love these geometric ones on Brit and Co – there's a full tutorial to show you how to make them. Make sure you use good quality thread like DMC, as cheaper thread will tangle and split more, which makes it harder to use. Metallic thread is also trickier to work with.
This tutorial on You Tube by Style with Me is also handy for beginners:
Check out my Pinterest board for more inspiration:
5. Crochet a bucket hat
Bucket hats remind me of camping holidays as a kid when wearing one was obligatory for practical reasons (I'm not sure sunscreen was much of a thing back then!). But they seem to be having a bit of a moment, especially when combined with crochet which is also having a bit of a moment. So here are a few cute crochet bucket hat patterns for you to try:
6. Go pom pom crazy
Another essential festival make is to get embellishing. Basically you can add pom-pom's and tassels to anything to make it more colourful and fancy. Embellish raffia bags, straw hats (good alternative to the bucket hat if you associate bucket hats with rainy summer holidays) and sandals. Check out my Pinterest board for some colourful ideas for adding pom-poms to everything:
7. Beads, bracelets and anklets
Beaded bracelets, bangles, anklets and anything with charms dangling are all perfect for festivals. So have a go at making a simple beaded bracelet or anklet.
Or if you don't want to make anything with beads, you can buy a unique jewellery ready made…
8. Macrame or crochet a bottle holder
Stay hydrated by knotting or crocheting a water bottle holder. Check out these patterns on Etsy:
9. Make some bunting for your tent
Bunting makes everything look like a festival. I love bunting and have decided to put it up in the garden and in the house – because it makes me happy! It's easy to make – just find a bundle of colour fat quarters and follow these instructions from Hobbycraft .
I met the lovely The Fabric Fox shop at the Carry on Crafting Festival and they sell lots of vibrant colourful and modern fat quarters which I love. Here are some of my favourites:
10. If it rains – customise your wellies
As anyone in the UK knows, a sunny festival is a rare event. So be prepared for the inevitable rain by customising your welly boots. Paint them, tie ribbons around the top, glue pom-pom trim on them – anything you can to brighten up a rainy day and make you feel happy even when it rains. Then bring on your best Peppa Pig impression and go jump in some muddy puddles!
P.S. This post includes some Etsy affiliate links which may result in a small commission.
Have fun getting crafty for summer festivals!

Claire x